At UDIA WA we have implemented a number of measures to combat the spread of COVID-19 while still maintaining a business as usual approach to our members services and advocacy efforts.
As part of this from Monday 30 March all UDIA WA staff will be working remotely following the recently upgraded social distancing measures from the Federal Government. This means the 3 Wexford Street office in Subiaco will closed temporarily.
We have also implemented virtual committee meetings for the next round of committee meetings due to commence in late March/early April.
UDIA WA has partnered with Future of Leadership to bring you Leading Through Crisis, a 10 part webinar series that will arm you with the tools, insights and importantly the motivation to lead through this uncertain time. Over 2 weeks you'll get access to leading Australian and global experts across an array of relevant leadership topics to assist you in navigating the impacts of COVID-19.
UDIA WA members can access an exclusive discount to view this series, get in touch with us at udia@udiawa.com.au. For more information about the webinar series, click here.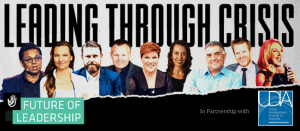 GENERAL RESOURCES FOR YOUR ORGANISATION
To help you manage the impact of coronavirus (COVID-19) on your business, the Small Business Development Corporation has put together a range of support information focused on the needs of small business owners.
This includes:
how to prepare your business
employer obligations
support and advisory services
government support packages
For more information, click here.
If you are seeking advice on how your business can prepare and respond to the impact of COVID-19, the Chamber of Commerce and Industry WA (CCI WA) has a range of very useful resources available for free here.
The Australian Institute of Company Directors has provided useful information regarding effective internal and external crisis communications, available to view here.
The Australian Government Health Department has put together the following information for employers, here.
The Western Australian State Government has put together the following information for employers, here.
Up-to-date health information about COVID-19 coronavirus is available from the WA Department of Health here.