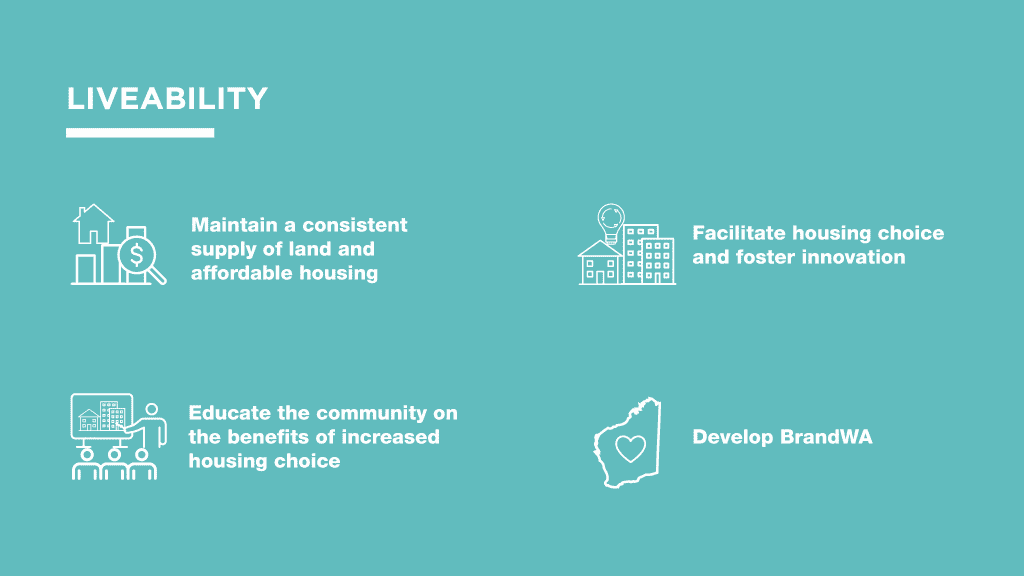 According to the Economist Intelligence Unit's Global Liveability Index, the key factors to measure liveability include stability, healthcare, culture and environment, education and infrastructure.
Perth has always performed relatively well in these types of global liveability indexes due to its relative safety, affordability and clean environment. However, in recent years Perth has dropped down the rankings due to an increasing lack of affordability in particular.
Perth has also lagged behind in relation to delivering a diversity of housing types to suit a range of lifestyle needs, including options for our ageing population.
The successful management of the pandemic in WA has provided an opportunity to regain Perth and WA's status as a sought-after location to live, work and invest. The state has emerged from the pandemic as a safe haven, offering residents and those wanting to move here the opportunity to live in relative protection from COVID-19 whilst continuing to work and recreate without too many restrictions.
The challenge this year is to ensure we maximise the current opportunity that we have as a State to improve our liveability and ensure that more people have access to secure, affordable and suitable accommodation.
A significant priority will be addressing the looming rental crisis that has emerged in WA due to a critical shortage of rental properties. The historic low level of rental homes available jeopardises our economic recovery, undermining our competitive advantage and ability to attract new workers to our State.
Rental insecurity will increasingly threaten many low to medium income households and the most vulnerable within our communities. If unresolved, this will place additional housing pressures that extend beyond the capacity of social and community housing providers.
UDIA Recommends
Key Priorities – Liveability

Adopt a co-ordinated approach with industry to live track market demand and the supply of greenfield and infill development capacity;
Introduce a proponent led option under Perth and Peel @3.5million and enable projects outside the identified urban footprint to be considered on merits;
Incorporate a Housing Affordability Impact Statement into all relevant Cabinet submissions to ensure cost impacts of new policies on consumers are minimised and addressed; and
No downzoning of land that has been zoned for urban development, unless the land owner is appropriately compensated.

Facilitate Build to Rent projects by replicating the New South Wales land tax exemptions;
Urgently adopt the implementation of the Community Title Scheme Regulations;
Work in close partnership with industry to develop an effective medium density housing code that balances excellent community outcomes with housing affordability and diversity targets;
Fund the implementation of the WA Housing Strategy and invest in more affordable housing; and
Incentivise the take up of a greater diversity in house building materials and increase the number of homes built using modern methods of construction.

Launch a public education campaign to celebrate the benefits of increased housing choice in every suburb.

The State Government plays a leadership role in clearly defining a brand proposition for the state of WA; and
Leverage that brand and ensure it engages all government departments, industry and the community in the delivery.