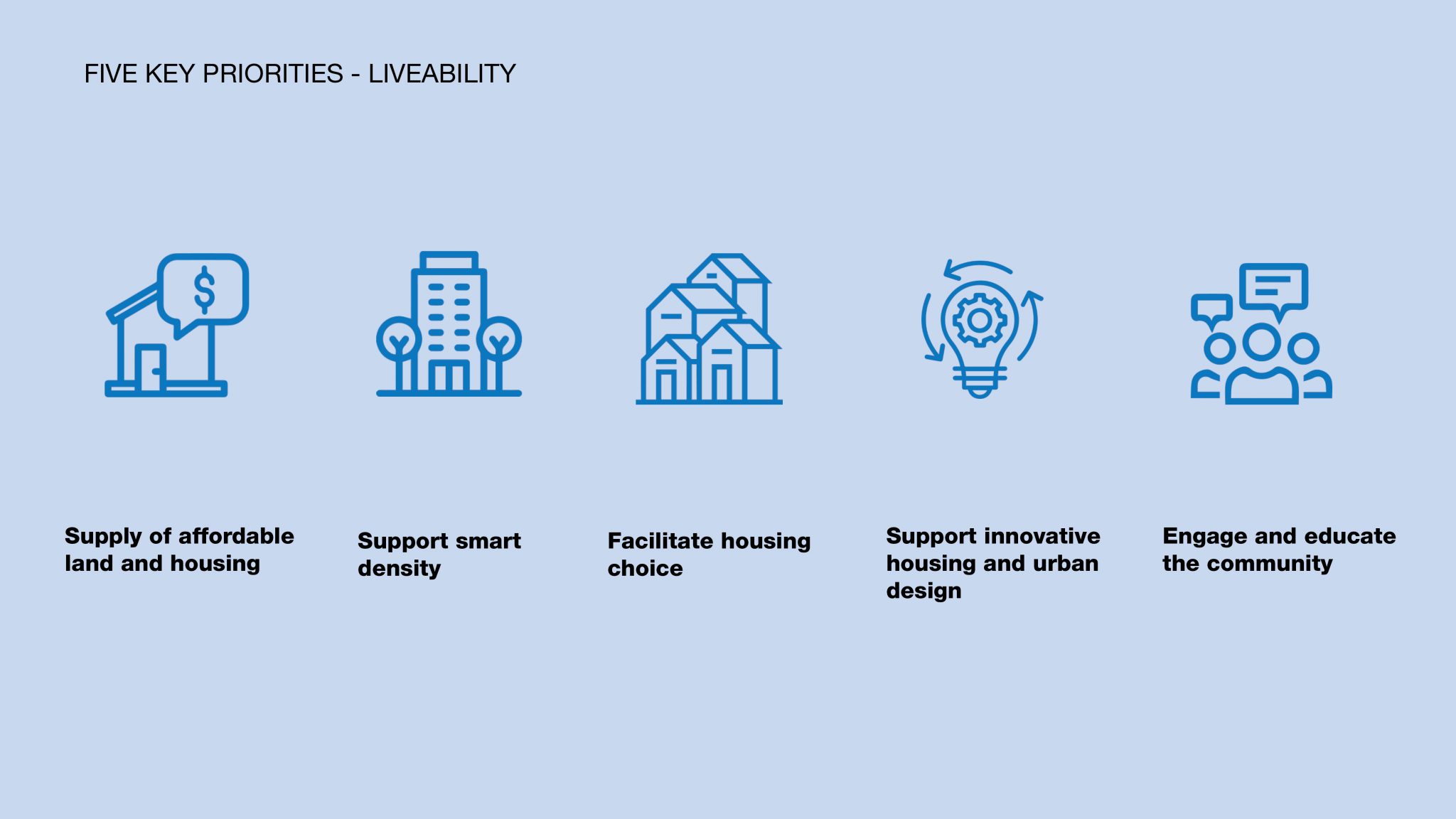 Context
Communities thrive when they are supported by a built environment that offers a range of hard and soft infrastructure, including a diversity of housing options that cater to needs of all
within the community. Having a supply of affordable housing is an essential ingredient of this.
Whilst housing prices have fallen in recent years, many within our community remain locked out of home ownership and affordable housing or are limited to accessing housing far away from where they want to be, including their place of work or family and friends.
Many factors have combined to limit the diversity and affordability of our housing stock including land supply, taxation policy, costs of construction, efficiency of approval process and infrastructure contribution charges.
Meanwhile, new infrastructure has emerged within Perth, however infrastructure provision has fallen behind in comparison to other cities, and as a result, Perth's 'liveability' ranking has fallen in recent years.
Improving the liveabilty of Perth and our regions is challenging, however with intelligent infrastructure investment, thoughtful urban design and increased density, the built environment can dramatically improve the health and vitality of our communities and economy.
UDIA Recommends
Five Key Priorities – Liveability
Supply of affordable land and housing

Ensuring the Urban Growth Monitor accurately tracks the supply of available developable land and infill capacity
Incorporate a Housing Affordability Impact Statement into all relevant Cabinet submissions to ensure cost impacts on consumers are minimised and addressed
Government to take a proactive approach to ensuring appropriate housing supply across the continuum and ensure industry has a seat at the table throughout implementation
Include a proponent led option in the Perth and Peel @3.5m Frameworks to confirm that projects outside of the adopted footprint can be considered on their merit

Support smart density

Prioritising the implementation of the Medium Density Design Code with strong industry engagement recognising both infill and greenfield settings
Ensure there is a deemed to comply option within the Medium Density Design Code and incentivise a performance based approach
Reward local governments that make meaningful effort to accommodate population growth with increased funding for infrastructure

Facilitate Housing Choice

Encourage investment in new housing supply and rental stock using appropriate housing taxation policies
Incentivise the take up of greater diversity in house building materials and increase the number of homes built using modern methods of construction
Further investigate centre transition options

Support innovative housing and urban design

Monitor and report development outcomes to ensure that the reformed Strata framework successfully delivers its aims and objectives
Incentivise an increase in the percentage of homes built with liveable design principles to provide more suitable stock for those with a disability and to support ageing in place
Review the Market Led Proposals criteria to increase the likelihood of innovative developments being brought to market
Develop and implement an approach for strategic cross-government approach to release of land assets

Engage and educate the community

Launch a public education campaign on the benefits of increased housing choice in every suburb
Industry to lead the development of a community consultation framework that delivers clarity and consistency across all local and state government authorities and agencies for future development